Wrap Around Heat Pack - Out Of This World
$54.95
Filled with Australian grown Lupins, our Wrap Around Heat Packs can be secured around your waist for hands free movement! 
"Look mum! No hands" 
100% cotton covering
Size Small - Recommended for Women Size 6-10 | Men Size XS-M
Size Large -
Recommended for Women
Size 12-20
| Men Size L - XXL
Size XL - Recommended for Women size 20-26 
| Men Size XXL - 5XL
 What are Lupins? Lupins are a type of legume. The benefits are as follows;
No odour
Won't sweat when heated
30% lighter than wheat and rice
Retains heat longer
Plot twist - you can also use it as a cold pack! To use as a cold pack, place it into a freezer bag and store in the freezer. 
Heat Instructions - DO NOT OVERHEAT - FOR USE IN MICROWAVES ONLY
Microwaves are different - just like us. These are guidelines only.
Start with placing the heat pack in the microwave on high for 60 seconds. If not hot enough, place back in for 15-second intervals until it reaches your desired temperature. 
Keep instructions and read carefully.
Take care when in use and heating.
All 
heat packs
 are handmade so not every heat pack
 is the same - Print Directions may vary as we aim to minimise wastage. 
Designed & manufactured in Australia. 
Customer Reviews
Write a Review
Ask a Question
I recommend this product
Really great!
I wear it even when I don't have cramps because it's so comforting!
04/02/2022
Alex B.

Australia
I recommend this product
Love this!
This heat pack is such high quality, I absolutely love it. It feels very durable and stays hot for a long time. The fabric pattern is really cute too!
02/02/2022
Natalie I.

United States
I recommend this product
WE love this product!
Holds its heat, comfortable, easy to move around in while wearing it and super convenient when I'm on the go. Both my boyfriend and I use it. I mainly use it for cramp discomfort and he uses it for his lower back pain. We love this product! Considering buying another so we don't fight over the one we have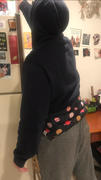 01/02/2022
Dana H.

Australia
I recommend this product
Amazing!
This wrap around heat pack has changed my life! It's so convenient and has really helped with my endometriosis pain. Plus the design is so cute! 10/10!
28/12/2021
Lauren R.

Australia
I recommend this product
Best Idea EVER
The wrap around heatpack is seriously amazing... the sizing is so inclusive and I love that I can get things done and not have to hold my heatpack constantly